Why India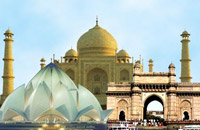 Why India
India ranks in cardiology, cardio thoracic surgery, joint replacement, orthopedic surgery, gastroenterology, ophthalmology, transplants besides Neurology, Neurosurgery, Oncology, Ophthalmology, Rheumatology, Endocrinology, ENT, Pediatrics, Pediatric Surgery, Pediatric Neurology, Urology, Nephrology, Dermatology, Dentistry, Plastic Surgery, Gynecology, Pulmonology, Psychiatry, General Medicine & General Surgery.
Exhaustive facilities that India offers include full body pathology, comprehensive physical and gynecological examinations, dental checkup, eye checkup, diet consultation, audiometry, spirometry, stress & lifestyle management, pap smear, digital Chest X-ray, 12 lead ECG, 2D echo colour doppler, gold standard DXA bone densitometry, body fat analysis, coronary risk markers, cancer risk markers, carotid colour doppler, spiral CT scan and high resolution MRI.
Each test is carried out by professional M.D. physicians, General Radiography, Ultra Sonography, Mammography to high end services like Magnetic Resonance Imaging, Digital Subtraction Angiography along with intervention procedures, Nuclear Imaging. The diagnostic facilities offered in India are comprehensive to include Laboratory services, Imaging, Cardiology, Neurology and Pulmonology. The Laboratory services include biochemistry, hematology, microbiology, serology, histopathology, transfusion medicine and RIA adhering to Stringent quality assurance exercises that ensure reliable and high quality test results.
A list of corporate hospitals in India are handling a steadily increasing flow of foreign patients. India has much more expertise than say Thailand or Malaysia . The infrastructure in some of India 's hospitals is also very good. What is more significant is that the costs are much less, almost one-third of those in other Asian countries.
To receive an approximate idea of cost and other information regarding treatments and holidays, please contact us.